From Traumatic Brain Injury to Down on One Knee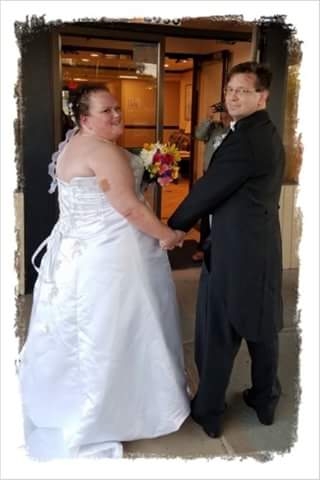 At just seventeen years old, Jeff Brickner faced inconceivable tragedy when he and his family members were in a fatal car accident. In addition to coping with the tragic loss of his mother and brother, Jeff was left recovering from a traumatic brain injury. Following the accident, Jeff received intensive rehabilitation services.
Twenty-five years later the symptoms from Jeff's brain injury resurfaced and he started experiencing frequent grand mal seizures. Jeff's doctor referred him to Origami Brain Injury Rehabilitation Center where he began treatment for his traumatic brain injury.  Jeff received psychiatry services, and speech-language therapy, and occupational therapy. 
"I told Origami that I wanted speech therapy to help me with communication since it had been 20 years since I had dated."
After a number of speech therapy sessions, they stumbled upon the profile of a woman named, Rebecca. Linda recalls, "Becca's profile picture showed her beautiful smile and right away that stood out to Jeff." Jeff sent Rebecca a message and their messaging continued for several weeks before they decided to meet in person. 
It wasn't until weeks later when Jeff was describing the horrific accident that he had been involved in, that he and Rebecca realized they knew each other. "We had grown up near each other, gone to the same school system, rode the same bus, and our parents even shopped at the same grocery store," said Rebecca. She was a freshman when the tragic accident occurred and recalls the shock of losing a classmate, Jeff's brother. 
After discovering their history with one another, their bond grew even stronger. Although Jeff hadn't officially asked yet, they knew they wanted to spend forever together and began planning their wedding.  Jeff proposed the very same day he purchased the ring. The two wed on June 25th, 2016, exactly 14 months after their first date.